About BAMBOO...
BAMBOO was formed in 2014 by Nick Carlisle (keyboards, production) & Rachel Horwood (vocals, electric banjo, drums).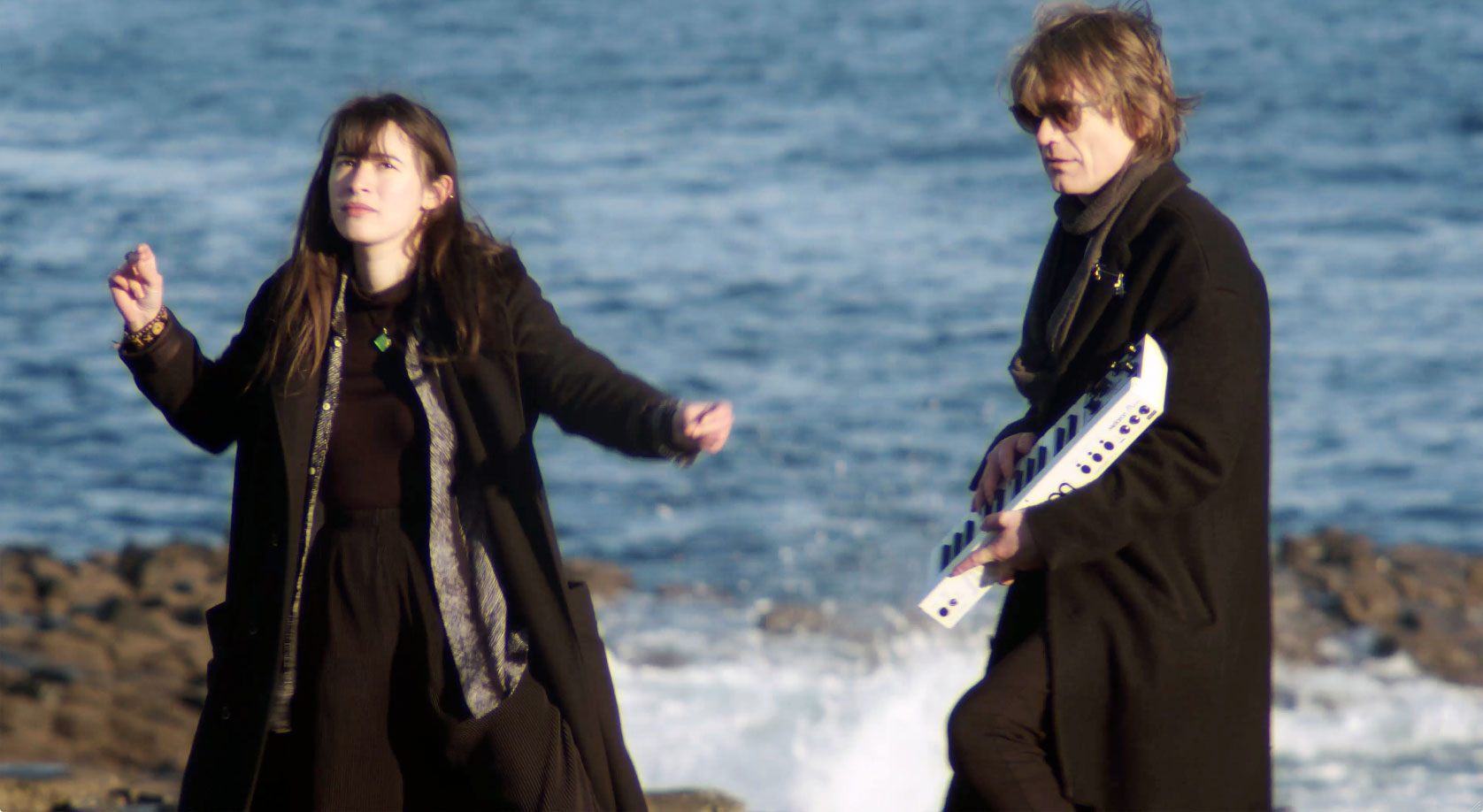 Photograph by Jack Barraclough
Upset The Rhythm Press Release (May 2019)
BAMBOO (Nick Carlisle - keyboards, production, also of Peepholes / Katy & Nick) & Rachel Horwood (vocals, electric banjo, also of Trash Kit / Bas Jan) announce their third studio album Daughters Of The Sky, due 14th June 2019 on Upset The Rhythm on gatefold LP, CD and digital formats.
The album was written and recorded over a two year period where ideas and arrangements were allowed to slow-cook and develop over time, in contrast with the last album "The Dragon Flies Away" (2017, ★★★ - Record Collector Magazine) which came together relatively quickly for the duo. The music comprises the usual (for Bamboo) mix of Horwood's flawlessly resonant folk cadence and Carlisle's pristine synth production, whilst TR808 drum machines and samples lock together with acoustic drums, themselves often given the "Tony Visconti" Eventide Harmoniser treatment of Berlin-era Bowie albums. Ancient ARP synthesisers and Mellotron flutes and horns sit next to contemporary digital sounds and samples in a hauntological tapestry over which Horwood can intone her sometimes mournful, often uplifting vocals.
The first single taken from the album, Weeping Idols, released 16th April 2019,  reflects upon a recurring theme of religious dogma and spiritual entrapment, and is accompanied by a stunning video shot by Jack Barraclough around the North Coast of Northern Ireland, taking in the Giant's Causeway and the Kinbane Castle ruin. Carlisle's infectiously colourful synth riffs and pop production, featuring sun-burst harp playing from Brighton-based singer/multi-instrumentalist Emma Gatrill, contrasts sharply with the darker tone of Horwood's lyric, jarring in a way reminiscent of "You Have Placed A Chill On My Heart" by The Eurythmics.
Although "Daughters Of The Sky" breaks away from the storybook concept format of The Dragon Flies Away, in that sense being more similar to Bamboo's debut album "Prince Pansori Priestess" (2015, ★★★★★ - Record Collector Magazine), there are still recurrent themes that run through the album such as motherhood, the cyclical nature of life, emancipation and liberation. "Branches dancing, bud stems growing, fibres swaying, arms unfurling" Horwood sings in The Deku Tree, a song which roots motherhood in nature's eternal cycle of birth and death. In the title track we see two perspectives of women spanning time and geography, Horwood drawing inspiration from the personal and also political. In 1917 a Russian match stick worker looks out of her window dreaming for a better life; in 2019 a Filipino maid in Hong Kong yearns to return to the children she has left behind. Both share a revolutionary spirit, protesting and fighting for a new world.
What might be the centrepiece of the album, "East Of The Sun / West Of The Moon", an 11 minute epic, begins with a serene, desolate ambient intro which eventually transports us over the waves to some unknown land. Here we track the journey of a displaced people who are rejected from pillar to post, prevented from crossing over political lines, judged by fellow humans by their few differences over their myriad similarities. "And we all walk a different pace, though we end up in the same place" sings Horwood, as the song's new-found rhythm seems to break apart again and slowly splinter away in different directions, the fragments hanging in the air as a new section emerges featuring a rare lead vocal from Carlisle.
Bar the brief instrumental coda "Tenebrae", the album ends on an optimistic note with "A World Is Born", an upbeat song of renewal. Horwood sings of the creation of a new world for a new generation, out of the ashes of a society stagnating under the collapsing weight of late capitalism. Saxophones provided by Emma Gatrill (her second guest appearance on the album) answer each vocal line in call and response style over more harmonised drums reminiscent of Bowie's "Low". Carlisle originally wrote the music following the death of Bowie, and Horwood added some Prince-like backing vocals (Prince having been name-checked in the title of the first Bamboo album). Although her lyric makes no reference to the loss of these giants, their influence hang over the song in a way which can only add to the sense of hope and rebirth, a sense which is indeed felt throughout the album.
"Daughters Of The Sky mixes history, fable and philosophical thought ... switching between the giddily euphoric and mournfully reflective"
★★★★ - Uncut
"Bamboo's vision of pop feels pristine, a little utopia realised"
The Wire
"The 11-minute epic that's at the heart of Daughters Of The Sky is a distillation of Bamboo's ambitious sound"
★★★★ - Loud And Quiet
"...the duo's sonic voyages make it worthwhile to sink into Bamboo's realm"
★★★ - The Skinny
"Weeping Idols deserves be a huge pop hit, with its great hooks and chorus"
Beats To The Bar
Bamboo - "Daughters Of The Sky" Tracklist:
Diamond Springs
Weeping Idols
Daughters Of The Sky
Memories All At Once
Off-World Colony
East Of The Sun / West Of The Moon
The Deku Tree
Under Larches
A World Is Born
Tenebrae